It's officially spring! Don't let this sub-zero temperature fool you – summer is around the corner! This means many of us are beginning the annual lightening of our locks. I have slowly been going blonde for almost a year now, but the last visit the hair dresser left me feeling like I still needed a little extra UMPH! Some of my fav beauty bloggers have been talking a lot about the John Frieda Sheer Blonde – Go Blonder Lightening Spray! LONG NAME!
I picked it up at Shoppers Drugmart for $13.99. I gots to be real with you ladies – it contains hydrogen peroxide, which made me nervous as first. It definitely dried my hair out, but it was nothing a good hair mask couldn't fix. I used it mostly on the underneath of my hair, and on my roots. I'm due for a highlight touch up and I wanted to see if this product could lengthen the life of my previous  highlights.
To use: Towel dry your hair, comb it out and spray either all over or on specific areas (make sure to comb through to ensure blending). I would suggest doing this before you get dressed. It did not discolour or stain my towels but best to be safe. Blow dry and style as usual. The more heat you use, the most dramatic the results. This makes it a great option for when you are on vacation, as the heat from the sun will also activate the spray. You can also take small sections of your hair and spray root to ends for subtle highlights. I've also seen people achieve a really beautiful ombre look by spraying only on the ends.
See the results below: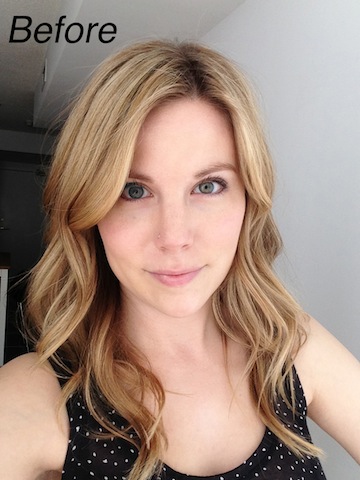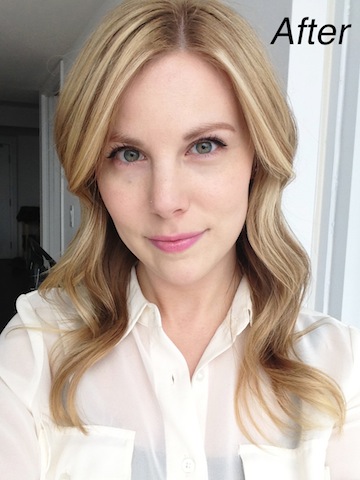 The difference is subtle, but it's there! It actually lightened my dark hair underneath a few shades. Overall it just made my highlights pop a little more, and slightly lightened the roots where I part my hair.
Pros: This product delivers what it promises, subtle but visible lightening in 3-5 uses. I've used it 4 times now and I think I've reached the level I like. I will definitely reach for this product in the future if I need to stretch a few extra weeks between salon appointments.
Cons: It does dry out your hair quite a bit (it contains peroxide after all) so make sure to apply a nourishing hair mask every other use. Also, when I sprayed on my roots I found they were a bit stiff after blow drying. I only noticed this along my part, but for very thin hair like mine it's something to be aware of!
Have you tried any of the John Frieda Go Blonder products? Let me know in the comments!