Every day I miss my pal Megan. 28 minute voice notes every few hours allows me to connect with her when we are hours and hours away. However, by now you know she's moving over to Portland and only about an hour flight away from me here in California. At least now, she's back in my time zone. Yay!
So, while she is settling into her new home, new state, and new country, I am doing a guest post for her today. By the way, I'm Nancy. Nice to e-meet you. Should've introduced myself first, I suppose. I'm also a Canadian now living in the USA, and I have a lifestyle blog. C'mon over!
Do you ever look at someone and be all "Man! I love the way that person is dressed" and I'm over here like, if I tried to dress that way I would have to try and try hard. Some people simply look effortless when they dress in certain styles. I have to say, I think Megan is one of those people who's style I envy a little bit. She looks fantastic, always — and it sorts seems without even trying. I love it.
While I have already found my uniform so to speak, which is a simple jeans and tee — and do I ever know how to rock that look. Especially if I'm going to an event, that bloggers seem to be going to a lot these days. At the beginning, I felt really stressed out trying to decide on what to wear. But honestly, does anyone really remember how you dressed on said evening? Give that some thought and really give me an honest answer. For the most part, it's no. Right? People connect with people via how they make each other feel. Not based on how they dress. Although, that ultimately might make them draw to one another, but it's now how they actually remember you.
Sometimes I totally want to dress boho and hippyish, but I'm honestly not sure it suits my sporty, happy personality. Ha! Okay apologies, you're not here to just listen to me babble. I'm here to show you an Outfit Of The Day that I wore to a blogging event I went to a number of weeks ago.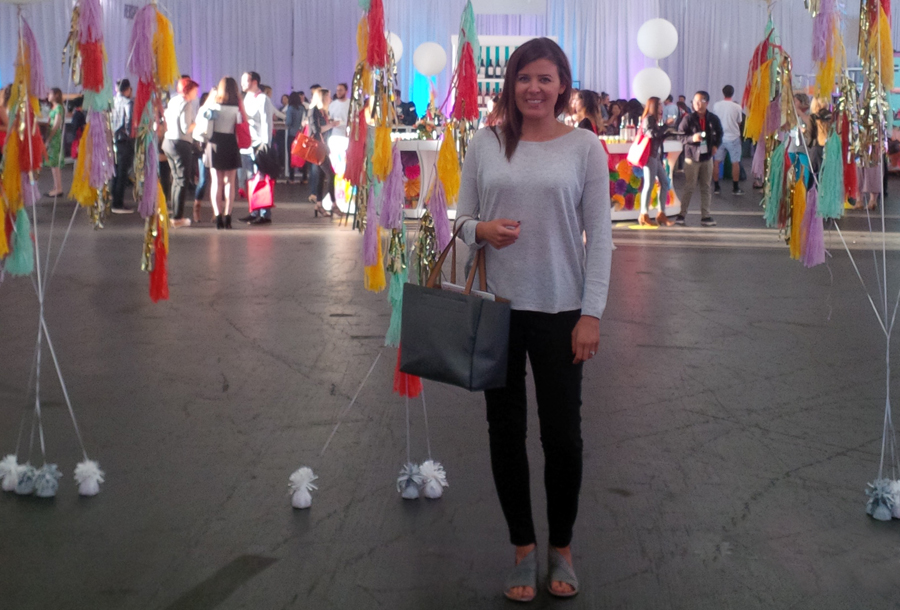 You may have seen parts of this outfit slowly appearing on my instagram feed. Head on over to my blog today to see more photos of my outfit, and where I discuss where all the items are from. Oh and fan-girling over meeting a kinda-sorta-celebrity!
Thanks so much to Megan for offering up her site so I could chit-chat a bit with you guys today!